IMPORTANT UPDATE DECEMBER 2022
There are three categories of claims  that have been paid since December 21, 2022:  (1) Previously deficient undocumented claims that sufficiently addressed their deficiency, (2) documented claims and (3) Class Member's whose initial Interac e-Transfer was unsuccessful. For these three categories of claims, cheques were mailed on December 21, 2022 and will become stale dated after June 21, 2023. Interac e-Transfers were sent on December 21, 2022.
Undocumented Claims
A previous distribution was made to Undocumented Claims who were entitled to the minimum payment of $20.
Documented Claims
The minimum payment for Documented Claims is $20 (per claim, not per product). While Documented Claims (i.e., claims supported by proof of purchase) may be entitled to a payment exceeding the minimum payment of $20, if you purchased a small volume of LIB/LIB Products, even documented claims may receive only $20. The amount that each claimant received was calculated based on the number and size of all claims filed.
Interac e-Transfer Payments
If you have not registered for automatic deposit of e-Transfers through your financial institution, you will need to answer a security question  in order to deposit the e-Transfer into your account.
An email was sent on December 20, 2022 (English) or December 20, 2022 (French) from [email protected] containing the answer to this security question. If you cannot find the email, please check your junk folder. If you enter the wrong answer four times your payment will be locked and you will not be able to deposit the payment.
The sender of the Interac e-Transfer will be either: (1) Lithium Batteries Class Action or (2) Computershare Trust Company (RicePoint Administration Inc.'s parent company).
Copy of Interac e-Transfer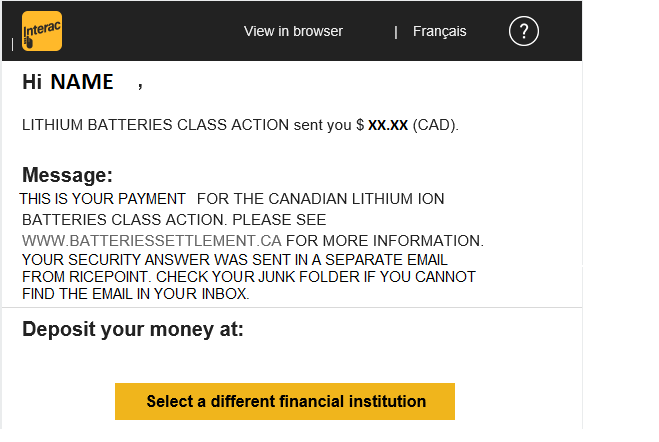 Please check this website for updates.  
Class action lawsuits were commenced in Ontario, British Columbia, and Quebec alleging that several LIB manufacturers (the "Defendants") conspired to fix prices for LIBs, resulting in higher prices for LIBs and LIB Products sold in Canada.
LIBs are rechargeable batteries used in electronic products.
LIB Products are laptop computers, notebook computers, tablet computers, e-book readers, MP3 players, personal digital assistants, handheld GPS, handheld video players, cellphones, smartphones (excluding cellphones and smartphones sold as part of a service contract) or replacement batteries for any of these products. 
Settlements totaling CDN$21.3 million were reached with Defendants. The settlements have received court approval in Ontario, British Columbia and/or Quebec. The settlements are a compromise of disputed claims and are not admissions of liability. The settlements resolve the litigation in full.
The settlement funds (plus interest, less approved fees and expenses) are available for distribution to eligible claimants.
Subject to further court order, undocumented claims will be paid $20 and do not require proof of purchase. If you wish to be eligible to receive more than $20, proof of purchase is required.
The remainder of the settlement funds (after paying undocumented claims) will be distributed on a proportional basis, based on the value of your claim relative to the value of all approved claims.
The value of your claim for the purpose of determining your share of the settlement funds will be calculated based on:
(a) the number and type of LIBs or LIB Products purchased (a point value will be assigned based on the number of LIB cells and value of the LIB cells within each product type); and
(b) your position in the distribution chain.
See the FAQs tab for further information.
Documents
Looking for more information about the class action? Please review the Documents page of the website.
Read them here